Welcome to UCLA!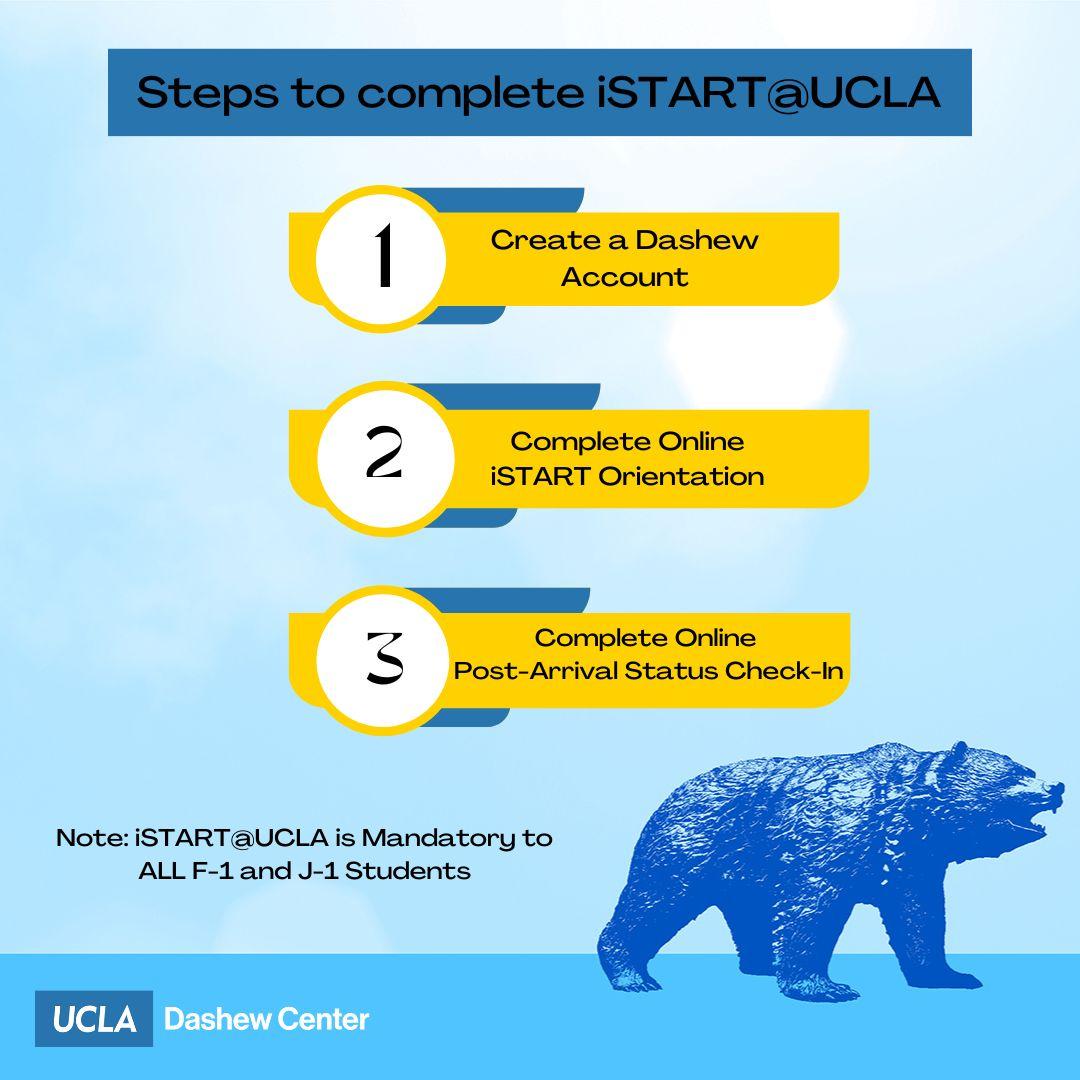 Mandatory iSTART Online Orientation
ISTART @UCLA is a a two-part virtual on-boarding process that includes the following steps: (1) Create a Dashew Account (2) Complete the iSTART Orientation and (3) The Post-Arrival Status Check-In.
This is a mandatory requirement for ALL F-1 and J-1 Students at UCLA, and it is divided in two parts:
(A) iSTART Online Orientation has been created to help you get familiar with important visa regulations, academic integrity, Los Angeles and UCLA campus life. It is mandatory that you complete all sections of the orientation. Each section contains a video and a quiz. You must get a completion certificate in the conclusion of the iSTART Orientation.
(B) Online Post-Arrival Status Check-In is design to verify your status and documentation upon arrival in the U.S.
*Note: the iSTART Online Orientation is separate from the UCLA orientation for First-Year Students, Transfer Students and Graduate Students. iSTART is required for UCLA F-1/J-1 registered students only who received an I-20 or DS-2019 from UCLA. If you are a Visiting Graduate Researcher, scholar or faculty member, you are not required to complete iSTART. You will complete jPATH instead.
When to Complete iSTART?
You must complete iSTART @UCLA no later than week 2 of your first term at UCLA (refer to UCLA Annual Calendar):
iSTART Orientation: Will be available to you 30 days before your first term start date & it should be completed by the second week of your first term at UCLA.
Post-Arrival Status Check-In: Should be completed from upon your arrival in the U.S. and before the second week of your first term at UCLA.
If one of the above are NOT completed by the second week of your first UCLA term, a hold will be placed on your UCLA student record, which will prevent you from using certain UCLA services.
Note: The dates of your first term at UCLA can be different from the regular (Fall, Winter, Spring, Summer) term dates. The iSTART Orientation will be available based on the UCLA Calendar dates and an email reminding you to complete iSTART @UCLA will also be sent to you.
Need assistance?
If you have questions about iSTART orientation please email intlprograms@saonet.ucla.edu
Important Information for Summer Sessions iSTART
The Summer Sessions Office will be notifying you with more information on how to complete iSTART.
(Note: iSTART is also mandatory for Summer Session students)