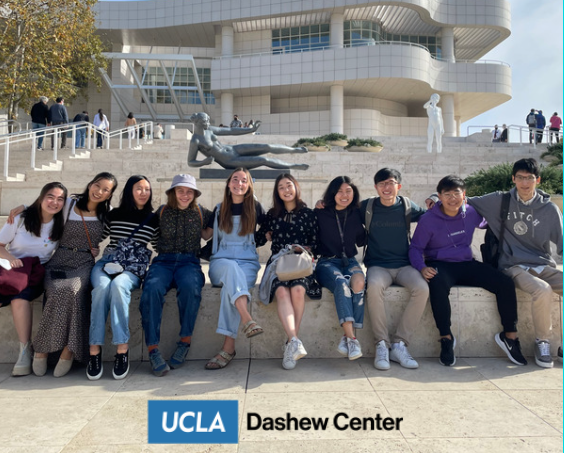 Explore the World at UCLA!
Are you looking to create connections across cultures? Would you like to explore the UCLA campus and local area with a group of international friends? Apply to the Global Siblings program for the 2022 - 2023 academic year! >>Applications are now open!<<
The Global Siblings program pairs one student with another student of a different cultural background for the Fall and Winter Quarters. Often we will match an international student with a domestic (from the U.S.) student, but we may also pair international students of different cultural backgrounds together.
In addition to gaining a Sibling, participants are divided into Global Siblings Families. Families are coordinated by student leaders called "Global Siblings Coordinators," who plan events throughout the Fall and Winter Quarters.
No matter where you are in your UCLA journey, participating in the Global Siblings program is a great opportunity to share your culture, connect with folks who hold similar interests, build a community, and learn about other cultures!
Follow us on Instagram! @ucla.globalsiblings
What are Siblings?
What roles do Siblings play?
Connection: Building connections and friendships is the main goal of Global Siblings. Domestic and international siblings each have much to share about the world, and are both looking to build connections with new people. Fostering a friendship with your sibling can go a long way towards making UCLA feel more like home.
Cultural Exchange: Global Siblings should practice cultural awareness, and have an interest in sharing and exchanging culture with their Sibling and Family. You and your Sibling will each have the opportunity to practice global awareness and empathy.
What can Global Siblings do with their Sibling?
In addition to attending Global Siblings Socials and Family events, you are required to meet one-on-one in-person and/or virtually with your Sibling at least once per quarter during the Fall and Winter. You can be as creative or as relaxed as you and your Sibling want, and we hope you have fun! Here are some ideas for outings:
Ideas for Virtual Meet-ups
Stream a movie, cook dinner together over video chat, or share recipes.
Make yourselves some coffee or tea and have an online study session
Find a virtual event or activity at UCLA or in LA that you can attend or participate in together.
Set up a video chat with your Global Sibling and your friend groups so everyone can meet and socialize.
Invite other Sibling pairs to join you and your Sibling on Zoom to play a game or catch up.
Ideas for In-Person Meet-ups
Hang out together on weekends by watching movies in Westwood, going out to eat, or going shopping.
Grab coffee or study together on a weekday
Check out events on the UCLA campus.
Introduce your Sibling to your friends.
Invite other Sibling pairs out and explore the local area off-campus.
Program Outcomes:
Participants will create new connections, friendships, and community to support their adjustment to life at UCLA
Participants will further develop their cultural knowledge, and hone their abilities and confidence in communicating with folks from backgrounds different from their own
Participants will gain familiarity with the UCLA campus and local area through events and outings with their Siblings and Families.
Apply to be a Sibling for 2022-2023
Applications for Global Siblings for 2022 – 2023 are now open! Apply here!
Applications are accepted on a rolling basis, but we encourage you to apply early as capacity for the program is limited. No prior experience in the program, at UCLA, or in Los Angeles is required to participate in the program as a Sibling.
Undergraduate students, graduate students, and scholars are eligible to apply to the program. We highly encourage first year students and new transfer students to apply!
Applications will close on Sunday, October 2, 2022 at 11:59 PM PT.
COVID-19 Adjustments:
Adjustments to the program may be made in accordance with UCLA guidelines. The program is currently scheduled to occur in a hybrid format (both online and in-person.) We will communicate any updates in the program structure to program participants whenever information becomes available.
2022-2023 Global Siblings Expectations:
Applicants must plan to be enrolled at UCLA for the Fall 2022 and Winter 2023 Quarters.Your commitment is for two quarters, after which you can reapply for the following year.
Meet with your Sibling virtually or in-person a minimum of once a month(not including Family/All-Program events), but more often is highly encouraged! Both Siblings should make an effort to consistently meet with one another.
Notify your Global Siblings Coordinators or Dashew staff if your Sibling is unresponsive or if you have any other concerns. There is generally a waitlist of applicants and you may have the option to be re-paired with a new Sibling.
Attend the Global Siblings Orientation in Fall 2022, exact date and time are TBD.
Attend at least two Global Siblings program events per quarter , which will be organized by Dashew staff and your Global Siblings Coordinators. Dashew staff and your Coordinators will work to schedule program events at a convenient time for all participants. (*Note: Attending Global Siblings Orientation is a program requirement and does not count toward the two events per quarter attendance requirement)
Program participants are responsible for getting themselves to and from the event departure point.Most in-person events originate from or take place on UCLA's campus.
Note:Some event costs will be covered by the Dashew Center, however some in-person events may require a small fee. Coordinators will take many factors into consideration when planning events that have a cost. Global Siblings can plan to do free or inexpensive outings together as well.
How do I apply?
Applications are now open through October 2, 2022! Access the 2022 - 2023 Global Siblings Application here.
Apply to be a Coordinator
Global Siblings Coordinator applications for the 2022 - 2023 academic year have closed.
Global Siblings Coordinators are student leaders who are selected based on their application as well as an interview process. They coordinate the meetings and activities of Global Siblings Family groups, and facilitate interaction amongst program participants.
Global Siblings Coordinator applicants also have the option to be considered for the Global Siblings Social Media Manager role. Please review the Social Media Manager tab for more information.
How do I apply? Applications for Global Siblings Coordinators for the 2022 - 2023 academic year have closed.
(Watch the recorded 22' Global Siblings Coordinator Information Session)
COVID-19 Adjustments: Adjustments to the program may be made in accordance with UCLA guidelines. Coordinators are expected to be flexible and work to adapt accordingly if the program structure must change. All changes will be communicated to Coordinators as soon as information becomes available.
Please review the FAQs and ensure you are able to meet all Global Siblings Coordinator Expectations below before applying.
Zoom Info Sessions:
Want to hear from current Coordinators and/or get your questions answered before applying? Attend one of our info sessions! You can logon and ask your questions, or watch a recording later to catch what happened in the sessions.
1st Info Session: Wednesday, March 30th @ 12:00pm PT
2nd Info Session:Friday, April 1st @ 12:00pm PT
Registration for the Zoom sessions will be available soon here on our website.
Applicant FAQs:
What is the duration of the Coordinator position? May 2022* - March 2023 (end of winter quarter) *Very minimal work may be required during Summer 2022
What is the weekly time commitment? Approximately 1 - 5 hours per week during Fall and Winter Quarters
I'm currently an international, domestic, first year, grad, transfer, and/or out-of-state student, can I apply? Yes!
Can I apply if I haven't participated in the program as a Global Siblings or am new to UCLA or the LA area? Yes!
I'm a grad student, would I be working with undergraduates as a Coordinator? Because Global Siblings is a social program, we aim to pair Coordinators and group Siblings primarily based on age and other demographic factors, not necessarily by academic status. It is possible that you will have undergraduate students in your Global Siblings Family if they are closer in age to other graduate students.
Is this position still open if classes are remote in 2022 - 2023? Yes! The program will operate remotely.
If classes are remote, do I need to live near UCLA to be a Coordinator? No. If classes are remote, Global Siblings events will also be remote.
Do Coordinators get paired with a Global Sibling? Coordinators are paired with a Co-Coordinator to manage their Global Sibs Family.
What do you look for in Coordinator applicants? We look for students who are empathetic and are interested in international awareness and cultural appreciation with a positive attitude! If you're looking for a leadership position involving event planning, program management, and exploring UCLA and the local area, this may be the right position for you!
What else should I know before applying? Ensure you can meet all Coordinator expectations below before applying!
Global Sibling Coordinator Expectations/Important Dates:
Attend the New Coordinator Meeting: Meet your fellow Coordinators on Wednesday, May 25th, 2022, 7:00 - 8:30 PM PT
Attend the Coordinator Orientation: Mandatory training session for all Global Siblings Coordinators on Sunday, September 18th, 2022 (Exact time and location are TBD)
Plan and Attend the Global Siblings Orientation: Mandatory Orientation for all Global Siblings participants on Saturday, October 8th, 2022 (Exact time and location are TBD)
Attend Coordinator Meetings: Plan with your Co-Coordinator and work with Dashew staff bi-weekly throughout the academic year (Days and times will be determined by availability of all Coordinators)
Recruitment: Be available to participate in program marketing efforts for Coordinators and Siblings throughout the year (may include flyering, department outreach, Res Hall outreach, tabling at campus events including Dashew Welcome Event during True Bruin Week & Freshman/Transfer Bruins Days in the spring, etc.).
Work Hours: Work with your Co-Coordinator for an average of 1 - 5 hours per week (e.g. meetings, communication to Siblings, event planning, etc.).
Family Events: Plan, submit proposals, attend, and submit post-event documents for your Family Events each quarter (2 Family Events in fall and 2 Family Events in winter, remote adjustments will be made as necessary ).
Global Siblings Socials: Plan and attend social events for all program participants during the fall and winter quarters (remote adjustments will be made as necessary) .
Communication: Communicate consistently with Sibling pairs to ensure they are engaged in the program and are meeting with their sibling. Maintain communication with Dashew Center staff throughout the year.
Attend Coordinator Development Day: Saturday, January 14, 2023 (Time: TBD)
Assist with other duties as assigned: Examples include contributing to or participating in Dashew's efforts to strengthen the ties between international and domestic students to campus
How do I apply:
Applications for Global Siblings Coordinators for the 2022 – 2023 academic year have closed.
Please review the FAQs and ensure you are able to meet all Global Siblings Coordinator Expectations and Important Dates above before applying. You will be asked to submit a resume at the end of the application. Ensure you have all materials ready before starting the application as you won't be able to save your responses and return later. Note: The application is only accessible using a g.ucla.edu email address. Activate your account or access your g.ucla.edu email at g.ucla.edu. If you have any questions or concerns about the application, email intlprograms@saonet.ucla.edu. We will use your g.ucla.edu email address for all program communication.
Coordinator - Social Media Manager
Accepted Global Siblings Coordinators are offered an additional opportunity to work as a Social Media Manager. This person will work alongside the Global Siblings Dashew Staff Advisor & Student Program Assistants to assist in marketing & outreach to program participants and the wider UCLA campus via social media.
The Manager will have all responsibilities of a regular Coordinator while taking on additional Social Media Ambassador responsibilities (1 - 5 hours/week) for the duration of their position (Fall 2022 & Winter 2023). Some work during Summer 2022 may be available based on program needs and Coordinator availability.
Key Responsibilities:
Build & execute social media strategy through content creation, messaging and audience engagement across Global Siblings social media platforms (mostly Instagram, but potentially private Facebook group, TikTok, etc.)
Build meaningful connections and engage with Global Siblings community members through dialogue and messaging
Help maintain all current program social media initiatives including program event promotion and #SiblingSelfies
Brainstorm strategies to help drive reach and engagement on Global Siblings social media platforms
Offer creative ideas so that we can stay current in terms of content and social media trends
Maintain communication with Dashew staff via Slack and periodic Social Media team meetings
Global Siblings Coordinator applicants with an interest in social media marketing management
A social media savvy individual with experience navigating functions across various platforms (Facebook, Instagram, & TikTok) and creating content using Canva and/or other tools
A strong verbal, written, and visual communicator
A self starter who takes initiative in problem solving and proposing new ideas
A team player who works well in collaborative environments
An adaptable person willing to adjust to changing responsibilities throughout the duration of the position
How do I apply:
Interested applicants should review everything on the Coordinator Position tab, then complete the additional application questions for this role along with all other questions on the application. You will be asked additional role-specific questions during the interview process if offered an interview.
2022-2023 Global Siblings Coordinators
Daiki Saito
Pronouns: he/him/his
Home:Osaka, Japan / Palm Springs, CA
Major: International Development Studies & Geography
Hobbies & Interests: Skiing, hiking, running, swimming, traveling, cooking, reading, etc.
Bio:I was born in Osaka, Japan but spent my teenage years in British Columbia, Canada. I migrated to the U.S. in 2019 and have been living in Palm Springs with my family since then. I played baseball all through middle and high school and have a black belt in Kendo. I enjoy all kinds of outdoor activities but also like to cook and watch anime.
Ethan Moy
Pronouns: he/him/his
Home: Orange County, CA
Major: Atmospheric and Oceanic Science
Hobbies & Interests: Traveling, eating, sports, visiting every baseball stadium in the US
Bio:Hey everyone! This is my third year of being a coordinator, and I am super excited to meet you all. I especially love learning about all your different backgrounds and cultures. Outside of school, I love all things food and travel, and one of my favorite activities is to just walk around LA. During the summer, I'm trying to visit every baseball stadium in the US, and I'm two-thirds of the way there.
Jasmine Mundo
Pronouns: she/her/hers
Home: Fountain Valley, USA
Major: Asian Studies major, Global Studies minor
Hobbies & Interests: Watching movies, playing board games (I have Carcassonne in my room!), eating, traveling, hand embroidery, going to the beach, hiking, fashion, and anything to do with my dog Biggie!
Bio:I love learning new things, trying new boba spots or fun restaurants, or anything that gets me out of the house since studying all the time gets tiring. I also love traveling, I've been to a handful of countries but am planning on traveling around Asia with friends after graduation so let me know if you have any recommendations! I'm a first gen transfer student too, so if anyone's in the same boat or needs any help navigating college or UCLA in general I'm here to help as best I can! I can't wait to get to know everyone!
Judith Vazquez-Oropeza
Pronouns: she/her/hers
Home:I am from Mexico City but I have been living in LA for the past eight years
Major: Labor Studies
Minor:Global Studies
Hobbies & Interests: I like staying active (gym, pilates and tennis), love food and finding new restaurants around the city, traveling, going to the beach to watch the sunset.
Bio:I am a fourth year/second year transfer, labor studies major and global studies minor. During the summer I like to explore LA and find new activities to do and places to visit. I hope I can show some of you guys some of my favorite places around the city.
Matthew Teo
Pronouns: he/him/his
​Home:Singapore
Major: Computer Science and Engineering
Hobbies & Interests: Travelling, Hiking, Cycling, Badminton, Guitar, Soccer, Skiing
Bio:Hey everyone, I'm Matthew! And I'm a 2nd year CSE major! I'm excited to show you around LA and to be planning all the fun events for our family this year! There would be lots of opportunities to bond with new people and to explore LA! I was a Global Sibling last year too! And I hope to give everyone in my family an amazing experience as your Coordinator this year!!
Monique Wong
Pronouns: she/her/hers
​Home:Hong Kong
Major: Neuroscience
Hobbies & Interests: Watching dramas and movies, playing tennis/piano/cello, learning different languages, travelling and definitely trying out new restaurants/foods!
Bio:I couldn't be more excited to be a Global Siblings Coordinator! Looking forward to meet more people and have fun together!
Sylvie Wang
Pronouns: she/they
Home:Shenyang, China
Major: Communication & English
Hobbies & Interests: Reading, writing, sleeping
Bio:I'm excited to meet everyone from everywhere and share an exciting year together exploring the LA area!
Xiaolin Luo
Pronouns: she/her
Home:San Francisco, California
Major: Human Biology and Society
Minor:Global Studies; Entrepreneurship
Hobbies & Interests: Thrifting, Outdoor events, Food, Binging Shows, Day trips
Bio:Hi! My name is Xiaolin (pronounced [Shaolin]). I'm a fourth year student from San Francisco. I would say I'm both a north and south campus major - ask me how! A fun fact is that I have been part of the Global Sibling program since my freshman year so I am a triple alum! I look forward to meeting everyone and making fun memories!
Yiyang Zhou
Pronouns: he/him/his
Home:Nanjing, China; Familiar with Shanghai and Beijing.
Major: Computer Science, Cognitive Science
Hobbies & Interests: Films, RTS games, reading, Catan, roller coasters, hiking
Bio:Hi I'm Yiyang! I was born on the Planet Earth and I really enjoy exploring this place. I love pondering about different ideas, theories, and perspectives, so come talk to me! I look forward to meeting people at Global Siblings and learning about your story!
Yiyao Ma
Pronouns: she/her, they/them
Home:Kunming, Yunnan, China
Major: Global Studies
Hobbies & Interests: Traveling, art, movies
Bio:Hi my name is Yiyao and I'm a fourth year global studies major. I joined this program because I'm interested in learning about cultural differences, which is also why I chose my major in the first place. I'm a foodie and would love to explore restaurants in LA with you. Fun fact: I'm a crazy cat lady who recently adopted my third cat with my best friend at UCLA.