Obtaining an ID card is suggested while in the U.S. This document will provide you with sufficient proof of identity throughout your stay in the United States. By having an official U.S. identification card, you will not have to carry your passport around with you all the time.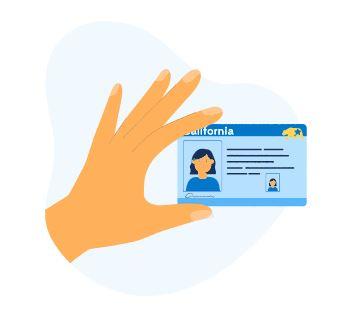 CALIFORNIA STATE ID
The State ID card is accepted at banks, stores, airports (for domestic flights only), and other businesses where name and age identification is required. You do not need to pass a driving test, as you will for a driver's license, to receive this identification card but it holds equal value. You can get a California ID from the California Department of Motor Vehicles (DMV).
How to apply for the CA State ID:
Visit DCISS and make sure you have completed visa check-in requirements and your SEVIS record has been activated.
Wait at least 10 calendar days from your entry date into the U.S before applying.
Wait at least 10 calendar days after your SEVIS record has been activated before applying.
Schedule an appointmentwith the Department of Motor Vehicles (DMV) Santa Monica Office.
Complete an original application form DL 44 (Available at the DMV and at the Dashew Center).
Provide the following documents

Valid UCLA I-20 or DS-2019
I-94 Admission Record
Original Passport
Social Security Number (SSN) if applicable
Proof of California Residency: Two Documents that verify your local California address. Both documents must display the same California address. View acceptable documents.

Pay a nominal application fee

Cash, check, money order or debit cards are accepted. NO credit cards!
CALIFORNIA DRIVER LICENSE
If you wish to operate a motor vehicle in the U.S. you must apply for a California Driver License. Please note that your home country's valid driver's license is acceptable for up to three months after you arrive in the US -- however not all officers are aware of that law and might issue you a ticket anyway. It is best to get a California license as soon as possible after you arrive to avoid any confusion or problems.
How to apply for the CA Drivers License:
Visit DCISS and make sure you have completed visa check-in requirements and your SEVIS record has been activated.
Wait at least 10 calendar days from your entry date into the U.S before applying.
Wait at least 10 calendar days after your SEVIS record has been activated before applying.
Schedule an appointment with the Department of Motor Vehicles (DMV) Santa Monica Office.
Complete an original application form DL 44 (Available at the DMV and at the Dashew Center).
Provide the following documents

Valid UCLA I-20 or DS-2019
I-94 Admission Record
Original Passport
Social Security Number (SSN) if applicable
Proof of California Residency: Two Documents that verify your local California address. Both documents must display the same California address. View acceptable documents.

Pay a nominal application fee

Cash, check, money order or debit cards are accepted. NO credit cards!

Pass a vision exam (given at the DMV at the time of the test)
Pass a traffic laws written test. There are 36 questions on the test and you will be given 3 chances to pass.

You can use DMV Driver's Manual to study for the test. The Dashew Center has manuals available in the following languages: (English, Chinese, Korean, Armenian, Vietnamese, Panjabi, Russian, Tagalog, Spanish).

Pass a behind-the-wheel driving test. To take the test you must make a Driving Test Appointment.

Driving tests are not given without an appointment.
You will need to provide proof of financial responsibility
Related Information
DMV Locations:
The designated DMV branch for UCLA is the Santa Monica DMV Office :
Address: 2235 Colorado Ave., Santa Monica, 90404
Phone: 1-800-777-0133
Website: Santa Monica DMV
Hours: Monday, Tuesday, Thursday, Friday: 8 AM-5 PM
Wednesday: 9 AM-5 PM
Saturday and Sunday: CLOSED
Federal Holidays: CLOSED